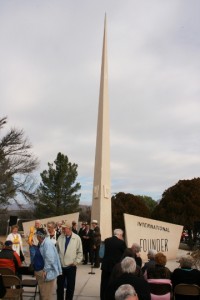 Located at Fort Thomas, Arizona, the Melvin Jones Lions International Memorial was erected and dedicated in 1965. This came years after a movement by the Arizona Lions to find a way to honor Melvin Jones, founder of one of the largest humanitarian service organizations in the world, "LIONS CLUBS INTERNATIONAL" .
Melvin T. Jones wanted his Memorial in Ft. Thomas, his birthplace. He stated, " Ft. Thomas is the place where I was born and have two brothers buried. It is already a historical site as a Fort, and while Safford is only 18 Miles from Ft. Thomas, Ft. Thomas is only 18 miles from Safford."
The Safford Lions Club was the closest Club to his birth place and they accepted the responsibility of starting the ball rolling at a state Convention. Melvin Jones stated:
In June 1999 the Lions International Board gave this prestigious fifty foot spire recognition as an International Shrine. On several occasions before his passing, Melvin visited the site of his birth and participated with Arizona Lions in laying the foundation for the memorial that now bears his name.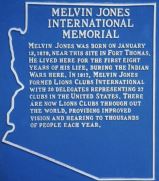 In March 2006, the state of Arizona proclaimed the Memorial a historic site.